So do you remember that recent deal that Book Outlet had? If you don't know anything about it, Book Outlet recently had a deal where you got $20 off $60+. I could NOT pass that deal up. I got 17 books for $50! Yeah.. Awesome right?! Here's the books that I got!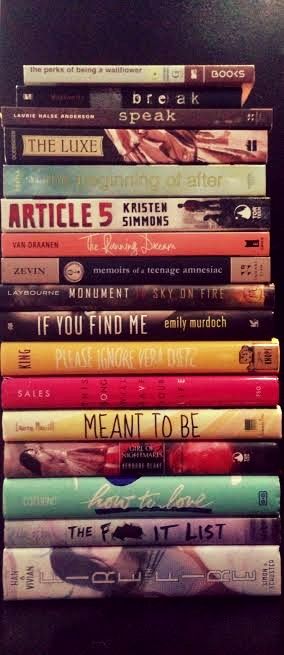 (Click on the titles below to go to their Goodreads page!)
1. How to Love by Katie Cotugno
2. The F- It List by Julie Halpern
3. Article 5 by Kristen Simmons
4.
Break by Hannah Moskowitz
5. Fire with Fire by Jenny Han & Siobhan Vivian
6. Girl of Nightmares by Kendare Blake
7. If You Find Me by Emily Murdoch
8. Meant to Be by Lauren Morrill
9. Memoirs Of A Teenage Amnesiac by Gabrielle Zevin
10. Monument 14: Sky on Fire by Emmy Laybourne
11. Please Ignore Vera Dietz by A.S. King
12. Speak by Laurie Halse Anderson
13. The Beginning of After by Jennifer Castle
14. The Luxe by Anna Gobersen
15. The Perks of Being a Wallflower by Stephen Chbosky
16. The Running Dream by Wendelin Van Draanen
17. This Song Will Save Your Life by Leila Sales
I am so excited and I cannot wait to read these! I have already read Perks, but I needed to own a physical copy since mine was on my Kindle. I am also currently reading Speak.
Have you read any of these? If so, what did you think about them?